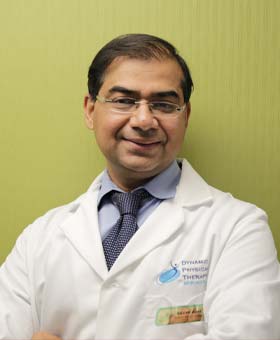 DPT, GCS, MS, MA , CEEAA, PT
Dr Nilesh Soni has been a clinician for the past 30 years and is one of the leading industry experts in the field of Physical Therapy in New York. Dr Soni founded Dynamic Physical Therapy Services in 2003 in response to community need for a state of art outpatient physical therapy practice dedicated towards pain management and treatment of older adults. His credentials include Doctorate of Physical Therapy from MGH Institute Of Health Sciences, Masters in Physical Therapy from New York University, another Masters in Physical Therapy from University of Bombay, India , and he is a Board Certified Geriatric Clinical Specialist by the American Physical Therapy Association. Dr Soni has mentored hundreds of Physical Therapists and has conducted over 1000 lectures to educate community dwelling older adults. At Dynamic Physical Therapy, Dr Soni has implemented innovative programs such as the Comprehensive Osteoporosis Management program and hands-on treatment protocols focused on myofascial release procedures for pain management. Dr Soni has been successful at creating a work environment having the ATTITUDE of GRATITUDE. Dr Soni has centered his life around the care of community dwelling older adults and has been linked with numerous charity organizations for the past 15 plus years. Passion and purpose have driven Dr Soni to establish a non-profit Pro Bono entity named BEING STRONG to further his mission of helping older adults through which he educates all about the benefits of physical activity and mindfulness. Outside of his work, Dr Soni enjoys playing various sports, travelling and photography.
Our licensed professionals are trained in advanced techniques much more than the minimum education required for licensure from Physical Therapy Schools.
Our staff have specialized in one on one Manual Therapy, Myofascial Release Techniques, Geriatric Physical Therapy, Electrodiagnostics including Needle Electromyography, Nerve Conduction Velocity Studies as well as Musculoskeletal Ultrasound.